NESTLE® CERELAC® Infant Cereals with iRON+ Rice Gluten & Lactose Free 250g Box for your baby from 6 months
A nutritious and convenient rice based infant cereal without milk
Fortified with iRON+ which helps support brain and cognitive development
 Contains BL and immunonutrients (A, C, D and Zinc) to support your baby's immune system                                    
Gluten & Lactose free
* Made from 100% natural grain and easily digestible
Helps your baby adapt easily from milk to solids
NESTLE® CERELAC® Infant Cereals with iRON+ Rice Gluten & Lactose free 250g Box, a delicious and nutritious rice based cereal without milk for your baby from 6 months. Fortified with iRON+ which helps to support healthy brain and cognitive development. Contains BL and immunonutrients (A, C, D and Zinc) to support your baby's immune system. Gluten & Lactose free. Made from 100% natural grain and easily digestible. A convenient and nutritious way to slowly introduce solids. When your baby is this age, they're ready to try food for the first time, which is why we've developed a baby food cereal just for their little tummies. Slowly making it a part of their diet will encourage them to enjoy new experiences with food.
Rice, Vegetable Oils (Low Erucic Rapeseed Oil, High Oleic Sunflower Oil, Sunflower Oil), Vanillin, Bifidus Culture, Minerals: Calcium Carbonate, Ferrous Fumarate, Zinc Sulfate, Potassium Iodide, Vitamins: Vitamin C, Vitamin E, Vitamin B1, Niacin, Vitamin A, Vitamin B6, Folic Acid, Vitamin D.
Wash your hands before preparing child's food‭. ‬Make sure all utensils are thoroughly clean‭.‬‬‬
Measure 120ml milk** and pour into baby's bowl.**breast milk or follow up milk currently fed to baby
Stir until cereal is mixed well and hold for 3 minutes before feeding baby with clean spoon.
Add 25 grams or 4 level tablespoons of CERELAC.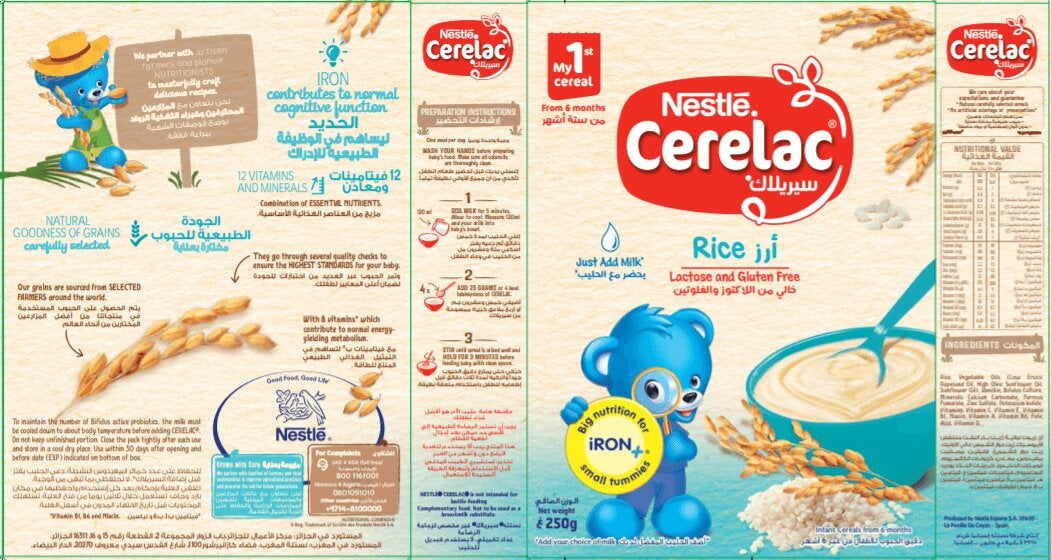 The World Health Organization (WHO) recommends exclusive breastfeeding for the first 6 months. Consult your doctor for advice on when to introduce complementary foods to your baby. Breastfeeding should continue for as long as possible after introduction of complementary foods.