Why are proteins so important to your child's health? And what makes Gentle OPTIPRO® the right choice for your child's needs? The answers are simple.
 
Proteins: The building blocks of the brain, muscles and body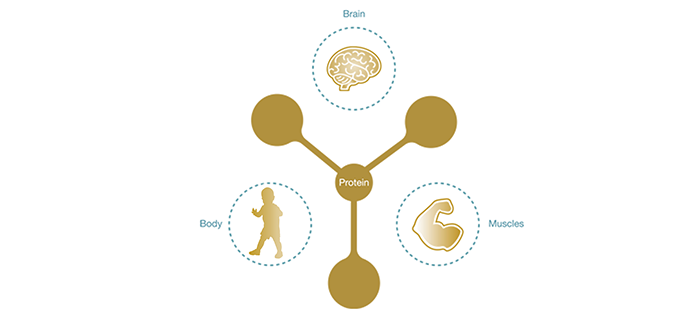 Research shows that proteins are one of the most important nutrients for your child's growth and development and contribute to the building of their brain, muscles and body.3-8
The quality and amount of proteins your child receives now can help build a strong foundation for future health.3-8
The right protein can help the development of both the immune and digestive systems and also lead to healthy weight gain.3-10
You want to make the right choice early on.
Gentle OPTIPRO®: A gentle protein blend adapted to your child's developing digestive system
The high-quality proteins in Gentle OPTIPRO® have been developed and extensively researched by Nestlé to ensure your child receives appropriate nutrition for lifelong health according to their age and needs.1,2
Gentle OPTIPRO® is made from 100% whey, the liquid remaining after milk has been curdled and strained. Why whey proteins? Because while casein clots in the acidic environment of the stomach11-13, whey proteins remain soluble and can move more rapidly to the intestine. Furthermore, whey proteins in Gentle OPTIPRO® are partially hydrolyzed, meaning the hydrolysis which usually takes place in the stomach is already partly done. This makes Gentle OPTIPRO® easy to digest for your child's developing digestive system.1,2
Gentle OPTIPRO® also helps support your child's healthy immune system development with a long-term effect, from early life and up to 15 years of age.14,15
At the heart of NAN® SUPREME H.A. 3 formula, Gentle OPTIPRO® proteins are crucial elements your child needs to build healthy foundations.2,6-8

IMPORTANT NOTICE: Exclusive breastfeeding is recommended during the first 6 months of life followed by the introduction of adequate nutritious complementary foods, along with sustained breastfeeding up to two years of age and beyond. NAN® Supreme H.A. 3 is not a breast-milk substitute. As babies grow at different rates; seek advice with your health professionals on the appropriate time when your baby should start receiving this product.
REFERENCES:
1. Vedantam G, et al.Curr Opin Microbiol. 2003 Oct;6(5):457-61.
2. Martin R, et al.Benef Microbes. 2010 Nov;1(4):367-82.
3. Milani C, et al.Microbiol Mol Biol Rev. 2017 Nov 8;81(4). pii: e00036-17.
4. Francino MP.Pathogens. 2014 Sep 24;3(3):769-90.
5. Chong CYL, et al.Nutrients. 2018 Feb 28;10(3). pii: E274.
6. Collado MC, et al.Pediatr Res. 2015 Jun;77(6):726-31.
7. Blum S, Schiffrin EJ. Curr Issues Intest Microbiol. 2003;4(2):53-60.
8. Walker WA. J Pediatr Gastroenterol Nutr. 2000;30(Suppl 2):S2-7.
9. Huang Y, Shao XM, Neu J. Eur J Pediatr. 2003;162:122-128.
10. Chouraqui JP, et al.J Pediatr Gastroenterol Nutr. 2004 ;38(3):288-92.
11. Holscher HD, et al. J Parenter Enteral Nutr. 2012 Jan;36(1 Suppl):106S-17S.
12. Weizman Z, et al. Pediatrics. 2005;115(1):5-9.
13. Ziegler EE, et al. Monatsschr Kinderheilkd [Suppl 1] 2003. 151:S65-S71.
Get full access to expert-backed nutrition support
My feed

Curated content based on your preferences 

Feeding guidance

Learn about various feeding options and what each means for you and your baby

Tailored Practical Tools

Try our tailored practical tools to guide you through the parenting journey.

My First 1000 Days club

Customised notifications, reminders and newsletters
Still haven't found what you are looking for?
Try our new smart question engine. We'll always have something for you.