Ingredients
•  40g Cerelac Wheat (6 months+) and 10g for topping
•  80g minced beef 
•  ¼ onion, finely chopped
•  1 garlic clove, mashed
•  1 tsp vegetable oil
•  1 tsp tomato paste
•  1 small tomato, chopped
•  3 broccoli florets, chopped 
•  2 tbsp carrot, chopped 
•  2 tbsp red bell pepper, chopped
•  2 tbsp peas
•  Pinch of pepper, optional
•  ¼ tsp cinnamon, optional
•  ¼ tsp oregano, optional
•  ¼ cup of water
•  ½ potato (about 150g)
•  2 tbsp milk
•  5g butter, melted
IMPORTANT NOTICE: The World Health Organization (WHO) recommends exclusive breast-feeding for the first 6 months. Consult your doctor for advice on when to introduce complementary foods to your baby. Breastfeeding should continue for as long as possible after introduction of complementary foods.
Step by step
45 mins

Preparation

15 mins

Cooking

60 mins

Time total
Wash and boil the potato

Meanwhile, in a small pot, cook the onion and garlic in the vegetable oil until translucent. Add the meat and continue cooking

Add the chopped vegetables: broccoli, peas, bell pepper, carrot, tomato and cook until they are soft

Add the tomato paste, spices (if using), Cerelac and water and simmer for 5 minutes

Separately, in a bowl, mash the potato with a fork, adding the melted butter and milk

Layer the meat, followed by the mashed potatoes and some Cerelac crumbs on the top

Cook in a preheated oven at 180 degrees for 15 minutes

N.B: Make sure to supervise your little foodie during feeding time and you can cut or shape the dish conveniently to his/her needs.
Features and Benefits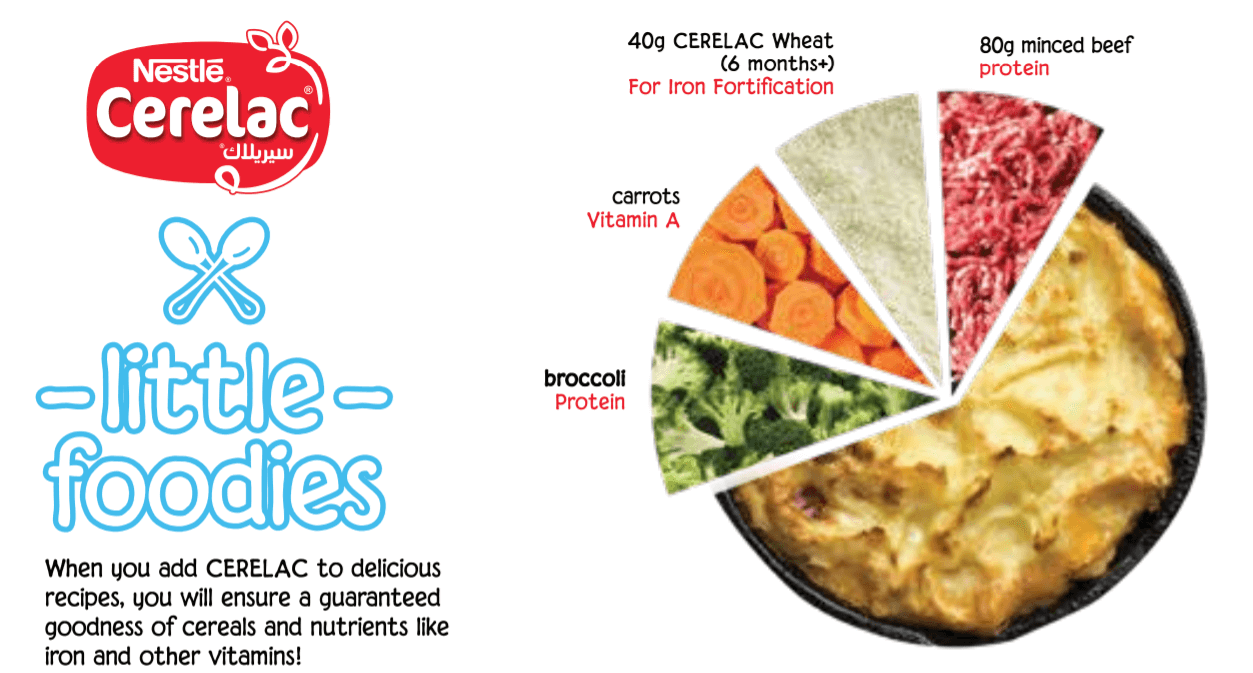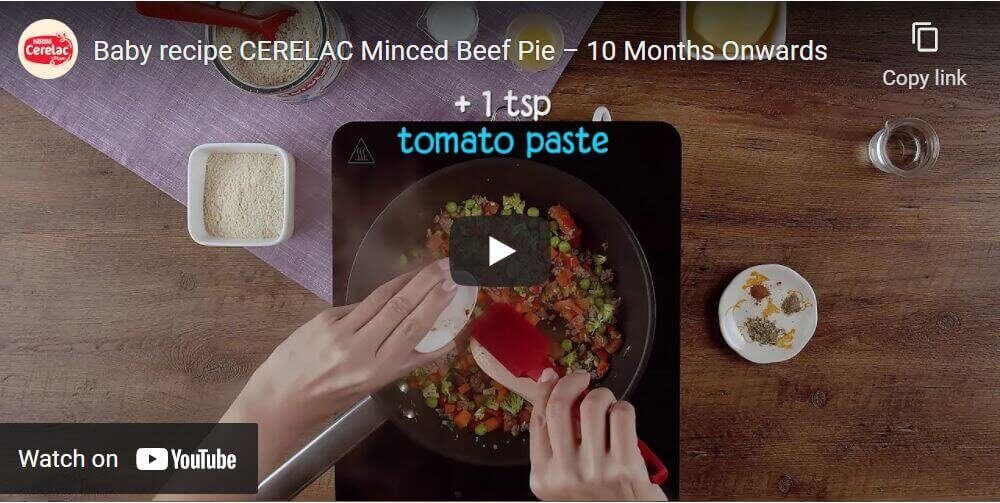 Get full access to expert-backed nutrition support
My feed

Curated content based on your preferences 

Feeding guidance

Learn about various feeding options and what each means for you and your baby

Tailored Practical Tools

Try our tailored practical tools to guide you through the parenting journey.

My First 1000 Days club

Customised notifications, reminders and newsletters
Still haven't found what you are looking for?
Try our new smart question engine. We'll always have something for you.